SIMTEK:  BEGINNINGS
It was not long after INMOS was sold that Dr. Petritz chose to venture out again.  He resumed his prior course as a private investor & company founder, this time bankrolling his own deals and syndicating with institutional venture capital companies and corporate investors.
Thorn had made clear that it was not going to continue R&D in the nonvolatile memory technologies that INMOS had been spearheading.  Dr. Gary Derbenwick,  a manager of device physics and product development at INMOS,  headed an INMOS project to develop silicon-oxide-nitride-oxide silicon (SONOS) memory products and presented the idea of starting a new company selectively around a narrow product line in nonvolatile memories.
Simtek: Company Overview
Simtek Corp was a Fabless IC supplier, developing and marketing fast nvSRAMs (non-volatile SRAMS). By outsourcing manufacturing. Read More…
Word about the deal travelled fast.  By October, 1985 Computergram International, London had already published that "Dick Petritz is looking for a way back into the chip business, following his departure from INMOS, hungrily eyeing Mostek's fabrication plant in Colorado Springs with a reported bid of $10m" 1)"Dick Petritz Wants Mostek Fabrication Plant", Computergram International, London, October 24, 1985..  Together, Petritz and Derbenwick formulated a business plan for circulation in December,  1985 to start Simtek Corp –an acronym for Silicon Mountain technologies – with a focus on ultra large scale integrated (ULSI) high performance, non-volatile memory products (EEPROMs and SRAMs). The initial plan contemplated construction of a 60,000 sqft, state-of-the-art,  six inch silicon wafer fab to be built in Colorado Springs, CO2)Simtek Business Plan, December 1985..
At 64 years old, Dr. Petritz and Dr. Derbenwick founded Simtek in 1986 with seed capital from Petritz.  Petritz would initially act through a venture management engagement as Chairman and CEO of Simtek and Derbenwick as President and first employee.  Following a successful pattern from the past, the strategy was to act as a founding investor, CEO and board chairman, raise capital, work with Derbenwick to recruit the management team and then mentor Dr. Derbenwick as the company's President and operations director. The arrangement was structured to emphasize Petritz role at the board level, as company Chairman.  Like Paul Schroeder — Petritz's co-founder in INMOS —  Dr. Derbenwick was a brilliant engineer and the right guy for the right time.
THE ROCKY ROAD
What was intended to be Dr. Petritz' "swan song performance" as entrepreneur turned out to be his greatest career challenge. Simtek's ultimate success as a company represented the culmination of all his talents and experience, and possibly the best representation of his innate passions for entrepreneurship. During his 12 year tenure as Chairman & CEO the company was faced with exceptionally challenging times:
Personnel: Holding an "all-star" team of executives together took a patient and active hand and necessitated successive recruitment of personnel. The company turned over the President's position five (5) times before Petritz retired from the company, each occasion calling on Dr. Petritz to step back into an operating or finance role.
Manufacturing: Going "fabless" reduced capital and operating expenses and the amount of financial capital required to start the company. However, it also presented complications of getting adequate manufacturing yield and wafer allocations to meet cash flow and sales forecasts. This demanded creative deal making and ongoing corrective actions to ensure foundry agreements and relationships could meet the company's needs. It also required more working capital than anticipated to finance development expenses and a long manufacturing cycle.  Over Petritz's entire career in semiconductors,  chip design, process technologists and manufacturing were more tightly integrated, under one roof. This was instrumental in reducing the time and cost of prototyping, an advantage Simtek did not have.
Marketing & Sales: Simtek's SNOS technology required a special fabrication process that affected pace of product development. Furthermore, the nvSRAM had to be "designed in" by customers, lengthening the sales cycle and the cash flow forecast the company relied on for its capital and financial planning.
Finance: The Company started strong with backing from key corporate investor allies. But unanticipated events caused the financial foundations of the company to quickly become shaky. Extra development and manufacturing costs resulted in delayed revenue growth, further straining cash balances and impacting capital campaigns. When the cost structure on nvSRAMs was still unfavorable in the early 90s, unit sales sold at a loss per part presented additional cash drain on the Company. Expecting more rapid sales traction and better margins, the Company misjudged the timing for operating expense ramp-up.
MAJOR AGREEMENTS
Petritz and Team had to rely on a wide array of deal structures to move the company forward, including: Angel investment, corporate preferred stock, multiple rounds of venture capital, successive public offerings, licensing deals, co-development contracts, PIPEs (private investment in public equity), factoring and Strategic Alliances.
Over the course of Petritz's tenure, he advanced five Major Agreements spanning the globe that charted Simtek's course:
NIPPON STEEL CORP (Japan) (1987)
[caption id="attachment_708" align="alignright" width="300"]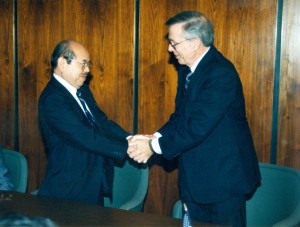 Dr. Petritz and Dr. Watanabe at NSC - Tokyo[/caption]
In May, 1986 Dr. Petritz was approached by his Japanese friend and colleague, Mr. Makoto Watanabe with a cooperation proposal for product planning between Simtek and Nippon Telegraph and Telephone Corp ("NTT"). 3)Personal correspondence, The Petritz Collection, 1986. Mr. Watanabe had dedicated his career as a semiconductor R&D manager and senior executive at NTT from 1952-1984. In 1984 he was the acting Executive Managing Director of NTT Electronic Technology Corporation, while working as a high-level consultant to the Japanese semiconductor industry. That conversation in May 1986 resulted in discussions that lead to introductions to Nippon Steel Corporation ("NSC"), in the Autumn of 1986.
[caption id="attachment_722" align="alignleft" width="300"]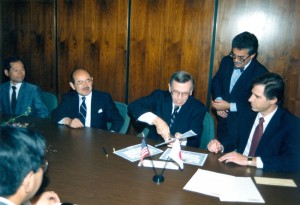 Dr Petritz stamping first stock certificate at Closing[/caption]
By April 1987 Dr. Watanabe had joined Nippon Steel Corp as Executive Advisor. A business plan was presented to NSC around Simtek's proposed product line and construction of a wafer fab to be built in Colorado Springs, CO. In May 1987 an equity and license agreement was struck with NSC. Common stock was acquired by Petritz and Derbenwick and Petritz and NSC put in the first preferred stock investment of $2,250,000 into the company, giving NSC 20% of the company and a board seat.
[caption id="attachment_724" align="alignnone" width="1000"]
Members of the Board - 1987 (from left to right) Mr. Makoto Watanabe, Dr. Gary F. Derbenwick, Dr. Richard L Petritz and, Mr. Fumihiko Dai[/caption]
PLESSEY SEMICONDUCTORS LTD. (England) (1989)
With the initial capital infusion from NSC, Simtek had enough cash and financing promise to begin hiring and product development. With no manufacturing facility of its own, Simtek entered into a licensing deal in July 1989 with Plessey Semiconductors Ltd. ("PSL") of England to receive technology license fees, future royalties and foundry services. The deal would give Simtek the ability to start running silicon and generate product samples for testing and early customer evaluation.
[caption id="attachment_727" align="aligncenter" width="1024"]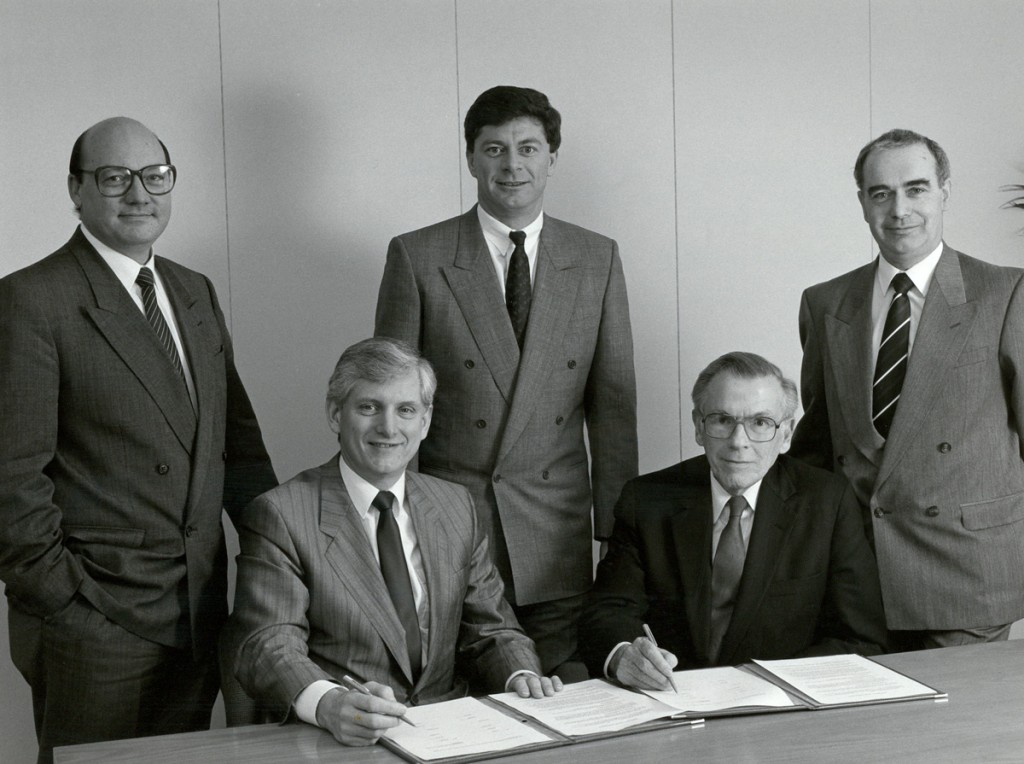 Signing the product licensing agreement between Simtek Corp and Plessey Semiconductors, ltd Left to Right: Ray Gleason - Marketing Director, Plessey, Doug Dunn – Managing Director, Plessey, Richard Riker – VP Sales & Marketing, Simtek, Richard Petritz – Chairman & CEO, Simtek ,John Brothers – Technical Representative, Plessey[/caption]
The agreement called for joint development of new products and manufacturing processes and gave Plessey and Simtek the right to market the same products under each company's respective name. It also gave PSL the right to incorporate Simtek's non-volatile memory technology into its ASICs. It was less than two years before that Plessey Co. Plc had entered negotiations with Thorn to buy INMOS, but in December 1987 withdrew from the deal. Ironically, ten years before (1979) it was Plessey Semiconductors that had expressed interest in becoming a wholly-owned subsidiary of INMOS.
Touting the relationship, Doug Dunn, Managing Director of Plessey Semiconductor stated "This Agreement is a major milestone in the growth of Plessey Semiconductors" 4)"Simtek and Plessey Semiconductors Announce Strategic Alliance", The Colorado Springs Business Journal, August 1, 1989.
. Together Petritz and Dunn optimistically placed a $30 million value on the deal over the subsequent two years 5)"Simtek Memory Tech Licensed to Plessey", Electronic News, July 31, 1989.. The Agreement between Plessey and Simtek was phased out just a few years later.
Dunn, who had formerly worked with INMOS, went on from Plessey to become CEO of Philips Semiconductors (1993), CEO of Royal Philips Electronics (1998), CEO of ASM Lithography Holding, and a Director of STMicroelectronics, the company that had eventually took possession of INMOS assets.
LANDMARK VENTURE CAPITAL & INITIAL PUBLIC OFFERING (United States) (1991)
[caption id="attachment_800" align="alignleft" width="224"]
Simtek Tombstone[/caption]
While pressing forward with PSL, it remained Petritz job to continue fundraising to support ambitious business plans. In 1988 he called on Brent Nicklas a venture capitalist from New York. Petritz became associated with Mr. Nicklas in 1985, while working with Merrill Lynch Capital Markets group on a possible INMOS IPO. Co-investing together, Nicklas and Petritz continued funding Simtek through to its Initial Public Offering on NASDAQ in 1991.  The public offering raised approximately $10m dollars and provided a format for successive public offerings and PIPEs (private investment in public equities) to come.
CHARTERED SEMICONDUCTOR MANUFACTURING (Singapore) (1992)
With TRW's announcement to downsize its foundry operations, Simtek was aggressively seeking a new manufacturing source for its chips. Being Fabless, the company's growth and profitability was heavily dependent on its foundry relationships. In 1992 Simtek entered into a manufacturing and development agreement with Chartered Semiconductor Manufacturing (CSM) of Singapore for production of 64K and 1M nvSRAMs. The agreement with Chartered was crucial for further legitimizing Simtek and its prospects.
ZENTRUM MIKROELEKTRONIK DRESDEN AG (Germany) (1994)
Dr. Klaus Wiemer — an acquaintance from days past at Texas Instruments – joined the Simtek Board in 1992. Dr. Wiemer started his career at Texas Instruments and brought a deep background in semiconductor Foundry operations. He was formerly the President of Taiwan Semiconductor Manufacturing Company ("TSMC") and was the CEO of Chartered Semiconductor from 1988 to 1991. TSMC itself was founded by Dr. Morris Chang, another associate of Dr. Petritz's from Texas Instruments. Dr. Chang (of Chinese descent) started his career in microelectronics at TI the same year as Dr. Petritz, 1958.
Wiemer was quite familiar with Simtek before joining the Simtek board in 1992, through the Simtek and Chartered relationship. He introduced Petritz and Simtek to Zentrum Mikroelektronik Dresden AG (ZMD) in Dresden, Germany. In 1994 an agreement was signed to license Simtek's technology and products to ZMD and to install Simtek's 1.2 micron process in ZMD's fab in Germany, and to jointly develop 0.8micron process technology. In 1995 it was decided to bypass 1.2 micron technology and instead concentrate on installation of the 0.8 micron technology. ZMD agreed to finance the development in exchange for shares in Simtek. That eventually made ZMD the largest single shareholder, owning approximately 30%. 6)Simtek Corp SEC K-1 and Annual Reports.
RE-POSITIONED FOR GROWTH
Petritz continued dual roles of private investor and company CEO throughout the 1990's.  In July 1997 Douglas Mitchell began marketing assignments for the Company and was hired as President and COO in January 1998. Mitchell — formerly in a sales and marketing function for INMOS —  had held the reigns of operations in Array Microsystems and Momentum Microsystems before working with Simtek.  By the time Mitchell was hired, Dr. Petritz was 76 years old.  Subsequent to Dr. Petritz's retirement from Simtek in 1998 the former President of INMOS John Heightley joined the Simtek Board.
Acting as a corporate development adviser, Jeff Cooper of New Venture Resources sourced and initiated a new round of financing with Robert Pearson and Renaissance Capital Group (RENN) of Dallas. It proved to be another pivotal point for the Company. Pearson – once a finance manager at Texas Instruments — joined the Simtek board in 1998 and provided the financial muscle and corporate governance needed to see Simtek through re-listing its stock on the NASDAQ Capital Markets and the eventual acquisition of the Company in 2008.
.
In June 1998 Dr. Petritz was honored as a recipient of the "Exceptional Entrepreneur Award" from Success Magazine, in conjunction with Success Magazine's "Phoenix 50 List:  Amazing stories of entrepreneurs who crashed and burned – and bounced back stronger than ever". That same year Simtek was included in Deloite & Touche's listing of America's 500 fastest-growing high-tech companies 7) "Simtek founder never cashed in his chips", The Gazette, July 13, 1998..  Having secured a new CEO (Mr. Mitchell), a stronger board, immediate capital contributions and a financing path forward, Dr. Petritz announced his retirement from Simtek Corp. in 1998.
SIMTEK: POST PETRITZ
After eight years of service as CEO,  Doug Mitchell resigned and Harold Blomquist, a Simtek board member, became the CEO. Before Mitchells' departure he had established an important formal relationship with Cypress Semiconductors for product development and fabrication.
In September 2006 additional rounds of investment were secured through private placement with institutional investors, allowing Simtek to buy back a product license it had sold to ZMD in return for capital and manufacturing capacity in 1995.  With those events a reverse stock split was completed in conjunction with the re-listing of Simtek stock on the NASDAQ Capital Market in January 2007.
Following the re-listing, Simtek Corp was acquired by Cypress Semiconductors Corp. for $46m dollars in September 2008 and became a wholly-owned subsidiary of Cypress.  Cypress Semiconductors Corp itself was co-founded by T. J. Rodgers in 1982 with backing from Sevin-Rosen Partners.  L.J. Sevin was Petritz' co-founder of Mostek Corp, which was sold to United Technologies in 1980.
Colorado Springs was not new territory to Mr. Rodgers. Rodgers – who had applied for a job at INMOS in the late 70s – was on the scene in July 1986, personally recruiting INMOS employees, laid off only 7 days before his arrival.  On July 10, 1986, Inmos Corp. announced it was closing its Colorado Springs semiconductor plant,  laying off 450 workers. Rodgers exclaimed a week later "this is one of the top three recruiting trips that Cypress has taken" 8)Mahoney, J., "Springs man likes change high-tech firm offers", Gazette Telegraph, July 19, 1986
. Cypress subsequently acquired several companies with roots in INMOS,  founded in Colorado Springs,  over a 20 year period.
Simtek Timeline: From founding to acquisition
Timeline Available in PDF Document click here.
| | | |
| --- | --- | --- |
| 1. | ↑ | "Dick Petritz Wants Mostek Fabrication Plant", Computergram International, London, October 24, 1985. |
| 2. | ↑ | Simtek Business Plan, December 1985. |
| 3. | ↑ | Personal correspondence, The Petritz Collection, 1986. |
| 4. | ↑ | "Simtek and Plessey Semiconductors Announce Strategic Alliance", The Colorado Springs Business Journal, August 1, 1989. |
| 5. | ↑ | "Simtek Memory Tech Licensed to Plessey", Electronic News, July 31, 1989. |
| 6. | ↑ | Simtek Corp SEC K-1 and Annual Reports. |
| 7. | ↑ | "Simtek founder never cashed in his chips", The Gazette, July 13, 1998. |
| 8. | ↑ | Mahoney, J., "Springs man likes change high-tech firm offers", Gazette Telegraph, July 19, 1986 |